Massa praesent sit suspendisse ac volutpat amet. Commodo elit at non neque ullamcorper id.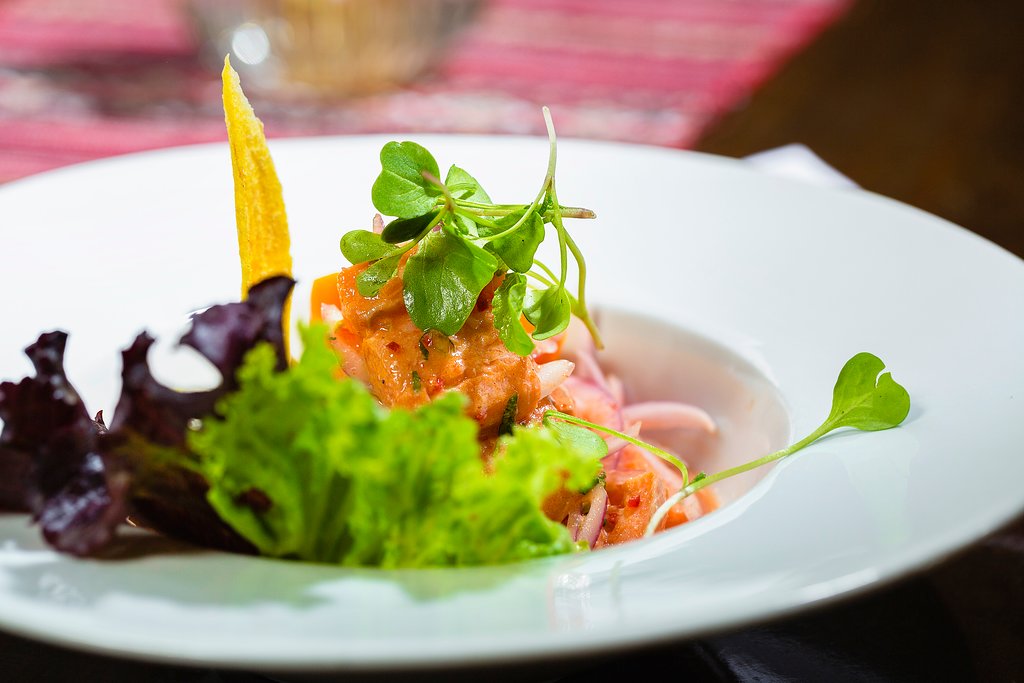 The signature dish of Peruvian cuisine
The signature dish of Peruvian cuisine, a classic recipe with fresh pieces of trout from the lake marinated in lemon juice from the valley, a touch of hot spicy chili accompanied by tasty sweet potatoes and tender corn teeth.
Handmade with native potatoes cooked and pressed with a touch of yellow pepper and lemon with avocado, mounted with a delicious river trout ceviche.
Grandma's classic recipe enriched with our secret seasoning of fresh trout pieces from the river, seasoned and served with avocado and cherry tomatoes from the orchard, chips from Andean chips and a tasty aguaymanto vinaigrette.
Thick cream of squash from the Vilcanota Valley flavored with ginger and garlic croutons, recommendation for cold.
Typical salad from the southern Peruvian sierra with tender green beans, cooked Andean potatoes, tender Urubamba corn teeth, tasty Andean cheese and tender Andean legumes accompanied with its inevitable uchucuta.
Mixture of fresh lettuce buds, forest oyster mushrooms, creamy cheese, cherry tomatoes from the garden and pickled cucumbers with home vinaigrette sauce, crunchy pieces of chicken breast breaded with real quinoa.
Caldillo recommended for cold days, chicken soup with fresh seasonal vegetables, yellow potatoes and angel hair.
The specialty of the house. Thick cream of tender corn teeth of the sacred valley seasoned with fresh huacatay leaves from the garden, cheese and egg to complement an authentic dish of the area.
The nutritious quinoa cooked and flavored with herbs of the area with avocado, sesame caiguas, touch of piquillo pepper, fresh romaine lettuce leaves and crispy parmesan cheese.
Fresh mixture of tender lettuce leaves with mango from the garden, tarwi or Andean crab, red pepper, finely chopped onions and tomatoes bathed in an exquisite homemade passion fruit sauce.
Delicious thick soup with nutritious quinoa in the background of fresh vegetables of the season with milk, egg, vegetables flavored with huacatay.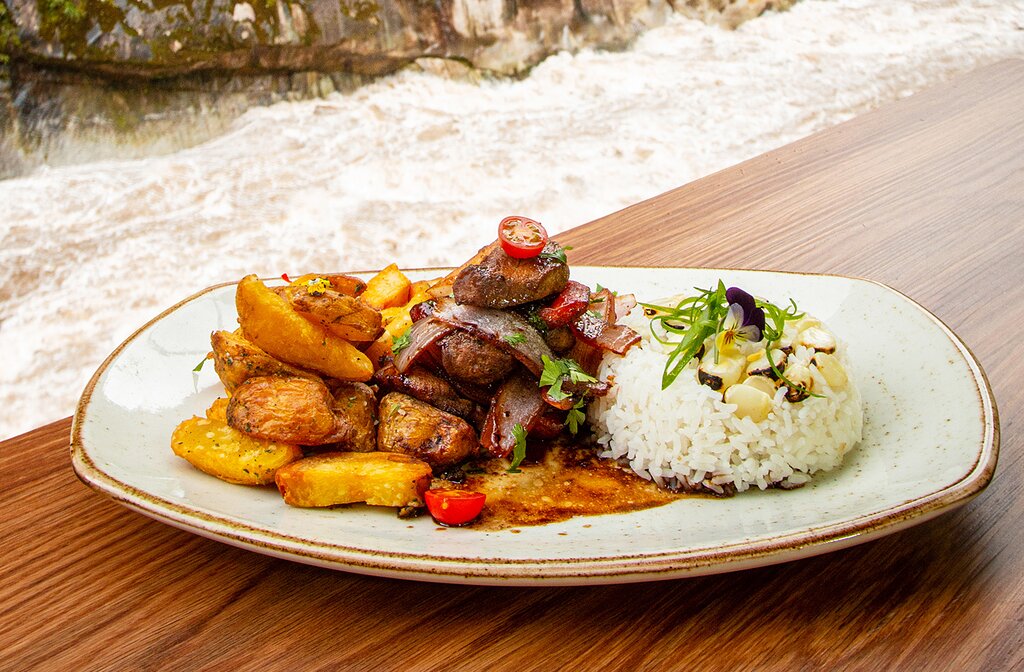 The signature dish of Peruvian cuisine
"CUY" TO THE FINEST HERBS
Guinea pig prepared by hand, marinated in the fine herbs of the valley in crunchy pieces served with rosemary native potatoes on a tasty homemade pepper sauce.
The family's favorite recipe fused with the specialty of Susy breast with juicy pieces of beef tenderloin with vegetables accompanied by fettucchini al dente with tasty cream of yellow pepper.
TROUT WITH AROMA OF GARLIC AND LEMON
The specialty of the house consists of fresh pieces of crunchy trout, served on a tasty rustic puree of Peruvian potatoes, its chimichurri of olives and fresh mushrooms bathed in a tasty lemon sauce and garlic from the garden.
"SECO DE CORDERO" WITH BEANS
Traditional food typical of the north and center of Peru made rustically based on a tender lamb cooked and flavored with coriander of garden, carrots, are complemented by a stew of Canarian beans and Creole sauce.
A delicacy worthy of demanding palate and good taste, with tender crispy pieces of duck from our farm macerated 5 hours with typical chicha, fresh leaves of cilantro and spices served with forceful rice cooked with cilantro, fresh vegetables from the garden mounted with its Creole sauce.
RISOTTO OF QUINOA WITH VEGETABLES
Andean version of the traditional Italian recipe with the nutritious selection of real quinoa, our secret blend of flavors, Italian zucchini, zucchini of the valley and tender corn teeth.
"LOMO SALTADO" AT FULL HOUSE STYLE
Peruvian typical dish with strips of thin loin sauteed with onion, yellow pepper and tomatoes, a touch of soy sauce, accompanied with the specialty of the house, quinoto; the nutritious quinoa with vegetables and aromatic herbs from the mountains.
The millenary recipe of the high provinces of the Cusco region with tender baby alpaca lomitos bathed with exquisite Malbec wine sauce accompanied by a rustic mashed potatoes and wok vegetables.
Grilled river trout bathed in antipasto sauce with special chili flavor accompanied by quinoa molds of two vegetable flavors with wok.
The millenary recipe of the white city of Arequipa that consists of fresh rocotos cooked and stuffed with tender pieces of tenderloin with fresh vegetables and egg; to the wood oven.
The great variety of our peppers and peppers of our country make a perfect combination and sensation of flavors for the palate. The farm hen, well cooked and crumbled in a creamy and tasty yellow pepper sauce, milk pecans and tender native potatoes decorated with boiled quail eggs and olives in the company of a serving of white rice.
A hot stew prepared by the mamitas of the peasant communities of the Sacred Valley with a mixture of mushrooms and mushrooms sautéed with fresh vegetables from the Vilcanota Valley served with a forceful tacu tacu of beans from the area.
Juicy filet of grilled thin loin bathed with dianne sauce of rosemary, muña and molie (red pepper), mustard, brandy, wine, cream t asparagus grilled served with real quinoa nougat.
GRILLED ALPACA WITH TACU TACU
A tender and juicy thin loin of grilled alpaca accompanied with a rustic omelet of beans and rice (tacu tacu). Fried plantain slices and a creole sauce.
Rolls of juicy chicken breasts with bacon and asparagus on quenelle of Andean potatoes dipped in ponzu sauce of rice vinegar, lemon and soy sauce.
The treasure of the picanterías of yesteryear in the squares and parks of remote villages. The particular recipe with tender pieces of crunchy pork belly accompanied with native golden potatoes and mint salad.
FETTUCCINI IN PESTO WITH CHICKEN FLOUR
The fettucchini cooked al dente carefully mixed with special sauce of serrano pesto from huacatay and chincho, walnuts and parmesan shavings; with a juicy grilled chicken fillet.
Typical Peruvian dish, made with heart of beef, served with native potatoes, Creole salad and its inevitable uchucuta (typical Cusco chili).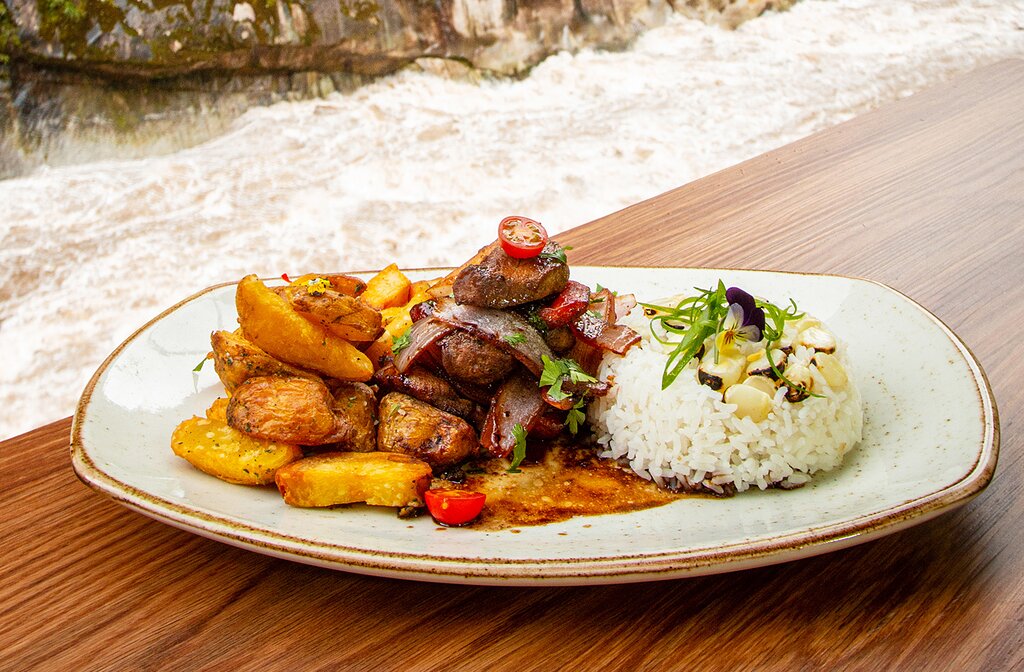 Make your own pizza, choose your ingredients.
Sauce, mozzarella cheese, chorizo, bacon, zucchini and olives.
Sauce, mozzarella cheese, red pepper, chorizo, bacon and ham.
Sauce, mozzarella cheese, chicken, zetas, oregano.
Sauce, mozzarella cheese, tomatoes, basil and olive oil.
Sauce, mozzarella cheese, peppers, mushrooms, onions, cherry tomatoes, olives and spinach.
Sauce, mozzarella cheese, ham, peppers, oregano.
Sauce, mozzarella cheese, ham, mushrooms, pepper and onion.
Sauce, mozzarella cheese, condensed milk, cinnamon, ham and pineapple.
Sauce, mozzarella cheese, ham, peppers, oregano.
Juicy burger of tender beef with avocado fan of the valley, refried bacon and onion accompanied with French fries.
Avocado puree and fine herbs, refried beans, onions and roasted peppers, nachos and a spicy red room.
Tequeños stuffed with cream cheese and ham accompanied with mashed avocado.
CHEESECAKE OF THE PASSION
An authentic delight to the palate, with biscuit base, passion fruit cream and passion fruit sweet.
Soft chocolate and pecan pie, accompanied with creamy Andean cereal ice cream (quinoa, cañihua and quiwicha) with vanilla flavor.
Dessert from the colonial era, exquisite whipped milk cream with a milk foam and cinnamon.
The classic banana of the Quillabamba Valley accompanied with three flavors of creamy ice cream of your choice and pop of Andean cereals bathed in chocolate.
Strawberry, chocolate, passion fruit, treasure of the Incas, etc.
Two flavors of ice cream of your choice made by hand.
LIMONADA (Clásica, Muña, Menta, Fresa, Kion)
AYRAMPO CON MENTA
LIMONADA FROZZEN (Clásica, Muña, Menta, Fresa, Kion)
CHICHA MORADA
MARACUYA Y MENTA
MANZANA, MUÑA Y KION
COCA COLA
INCA COLA
SPRITE
FANTA
KIWI, PIÑA Y KION
FRESA, MARACUYA Y MANGO
NARANJA CON PAPAYA
UKUKUS PORTER
CHOLO SOY PALE ALE
OTROS
KOLSCH
EXPORT
SCOTTISH ALE
FRUIT PALE ALE
SPECIALITY IPA
SHV BLODE ALE
WEISSBIER
SHAMAN IPA
INTI GOLDEN
ALPAMAYO AMBER ALE
PACHACUTEQ IMPERIAL ALE
Dear guests, you are welcomed to eat and share with us at Full House Peruvian Cuisine. Have a pleasant culinary experience.