Ceviche is a classic Peruvian dish that has been gaining popularity worldwide in recent years. This refreshing and flavorful dish is made with raw fish. The fish is marinated in citrus juices and spices until it's "cooked" through the process of denaturation. This dish is a staple of Peruvian cuisine, but it has also become a favorite in other Latin American countries and beyond.
In this article, we'll explore the history of ceviche and the traditional methods used to make it. We'll also look at some modern twists on the classic recipe and provide tips on how to make your own delicious ceviche at home.
The history of this traditional dish
Ceviche, also spelled "cebiche", has a long and fascinating history that stretches back thousands of years. It's believed that the dish originated in the coastal regions of Peru. Fish was a staple food source for indigenous communities. These early Peruvians would combine fresh fish and other marine ingredients to create diverse dishes. Over time, this cooking methods evolved to include the use of citrus juices. The acidic juices of lemons and limes acted as a natural preservative, "cooking" the fish without the need for heat.
This dish quickly became a beloved dish in Peru, and its popularity spread throughout Latin America and beyond. Today, ceviche is a staple of Peruvian cuisine. Ceviche is served in a variety of styles. These range from the classic recipe made with fish, lime juice, onions, and chili peppers, to modern interpretations that incorporate a range of seafood, fruits, and vegetables.
In recent years, this traditional dish has gained widespread popularity in North America and Europe. Chefs and food lovers alike are embracing its fresh, bold flavors and healthy ingredients. Despite its global popularity, however, ceviche remains a beloved symbol of Peruvian culture and cuisine. Thus, it is an essential part of any culinary exploration of this vibrant country.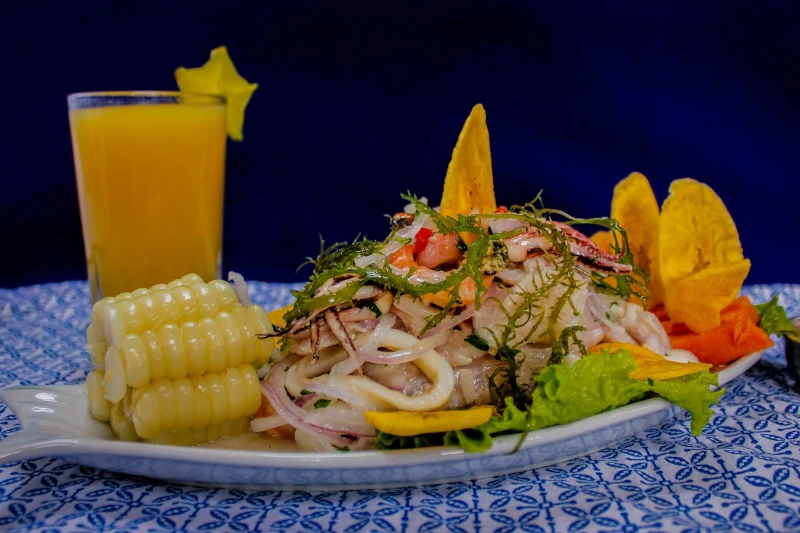 Ingredients, techniques, and tips for making the classic ceviche
Traditional ceviche is a simple yet flavorful dish. It relies on high-quality ingredients and careful preparation to achieve its signature taste. The key to a great ceviche is using fresh, high-quality fish. It should be cut into small, uniform pieces to ensure even marination. Popular types of fish used in ceviche include sea bass, sole, tilapia, and shrimp.
Once the fish is cut, it's marinated in a mixture of citrus juices, such as lime and lemon, along with diced onions, chili peppers, and salt. The acid from the citrus juices "cooks" the fish by denaturing the proteins, resulting in a tender, flavorful dish.
In addition to the core ingredients, traditional ceviche may also include herbs such as cilantro or parsley. Diced tomatoes or avocados can also be added for added texture and flavor. Some variations also call for adding sweet potatoes or corn to the mix, which provides a pleasing contrast to the tangy, acidic marinade.
When it comes to serving, traditional ceviche is typically enjoyed as a light lunch or appetizer, often accompanied by crispy corn kernels or plantain chips. To make your own ceviche at home, it's important to use fresh, high-quality ingredients. The fish should be marinated for the right amount of time – usually around 20-30 minutes. Be sure to enjoy it as soon as possible for the best flavor and texture.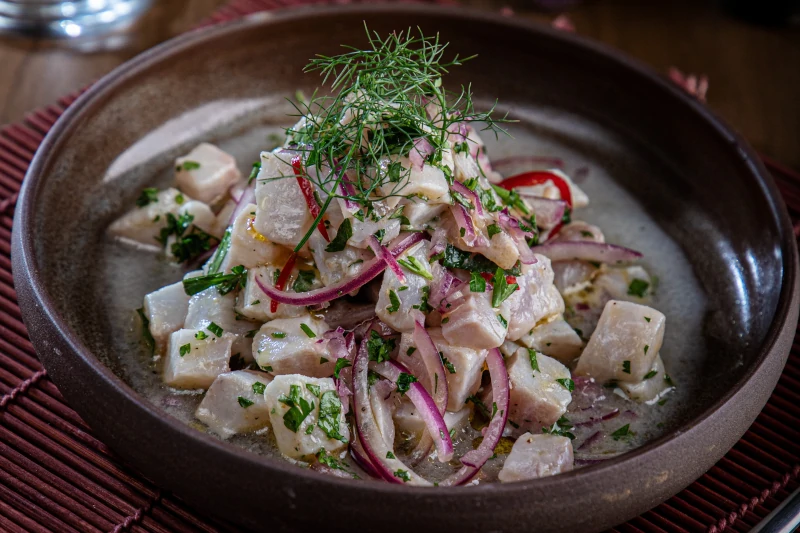 Expert suggestions for ideal combinations
Pairing the right beverage with your ceviche can enhance the flavors of the dish and make for a truly satisfying culinary experience. There are several options for pairing ceviche, including wine, beer, and cocktails such as Pisco Sour.
For wine lovers, a dry white wine like a Sauvignon Blanc can complement the acidity and citrus flavors of the dish. A light-bodied red wine, such as a Pinot Noir, can also work well with ceviche made with heartier fish like salmon.
If you prefer beer, a light, crisp beer like a pilsner or lager can provide a refreshing balance to the tangy flavors of the dish. A strong beer can also work well with spicier ceviche variations, providing a nice contrast to the heat.
For cocktail enthusiasts, a classic margarita or mojito can be a perfect pairing for ceviche. The tequila and lime in a margarita can bring out the citrus notes in the dish, while the mint in a mojito can provide a refreshing complement to the spicy flavors of some ceviche recipes.
Ultimately, the best pairing for your ceviche will depend on the specific ingredients and flavors in the dish. Don't be afraid to experiment with different combinations until you find the perfect match for your palate. And remember, the most important thing is to enjoy your delicious ceviche and the company you're sharing it with.